Interview with Itala Schmelz
Director of Centro de la Imagen, Mexico City.
Febuary 2014
How did you arrive to ceramics as your way of expression?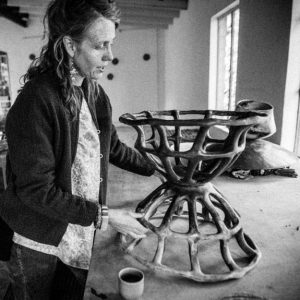 Clay has always been enough. Fate perhaps has had its say. I was given a plastic throwing wheel as a child and can remember throwing heavy lopsided pots in the basement. I have been working in ceramics for almost 30 years now, piece by piece, pot by pot, kiln by kiln. Ceramics has given me a way to measure my life, in terms of time, in stages, by what I am producing, the why, when, where and how. Through clay I have slowly stumbled upon myself and in turn, my own way of expressing what I feel deep inside.
"A Fuego Lento" is a culmination of many years and is my first jump to other building materials. My great new discovery is of bronze and metal patinas, and building thin like coil structures in clay that can then be cast into this material. These vessels, which I call the skeleton pots, with their space and air and strength want to exist in exterior spaces. I am now exploring the garden and placement of these new pieces with stone and leaves and the sky. This period is one of recrudescence, a breaking out afresh, a revival, a time to be accountable and consistent and knowing where my work belongs in the context of space, in the ceramic world and in my life as expression.
What are your working methods?
I do not follow a linear process and constantly experiment. There are a few distinct stages in the studio. The first is when the clay is malleable. I build by hand with coils or slabs. Coil building for me is slow and permits a great diversity of form that I find deliberately – or not – letting the clay, the humidity and my hands decide. Slab building feels the exact opposite. With slabs I work quickly with spontaneity and intensity. These two techniques compliment each other and these two distinct paces of working keep me in balance. A newly built piece in either building process at the green-ware stage is very beautiful, the form is now finished, there is life, there is humidity, the hand and process have left their mark, the clay breathes.
The second stage is much more difficult and challenging; drying, color and kiln. The big trick is keeping the thread of my ideas and intentions alive. Finding the final skin of the object; this time in a fired and permanent way.
It has taken me years to become "proficient" in the way of fire and chemistry. I do not complicate my existence with lots of formulas and recipes opting for one glaze base. The mix of mineral oxides, the reduction and oxidation in the kiln as well as firing temperatures in my search for color and surface texture are more than enough variables for me to last a lifetime. Hopefully the alchemy and magic run parallel to convey my personal language.
My studio is a place of much physical work and activity which is an element I find invigorating. I mix all my own clay bodies, needing a material that responds to my way of building larger forms and that has the strength to withstand multiple kiln firings. I also mix all my own glazes because they give me the palette of colors I am looking for. My studio is in the countryside with a temperate climate so my days are spent in the fresh air giving me a sense of great freedom. My daily working rhythm is from the day's first light to last and I wouldn`t trade it for the world.